While Pampanga is known as the Culinary Capital of the Philippines, there are more to the province than just food. Pampanga is a home to a hodgepodge of natural and man-made tourist destinations. In fact, every city or municipality in Pampanga boasts of its distinct destinations and observances.
PLACES TO VISIT WHEN IN PAMPANGA
Porac
In terms of land area, Porac is considered as the largest town in the province. A part of the Mount Pinatubo is located within this first-class municipality. Rio Grande also traverses the town.
Nonetheless, one place worthy of visiting is Santa Catalina de Alexandria Parish. Built in 1594 and reconstructed in the 1980s, the parish church is a heritage site. This is evident by looking at the church's façade alone which has an ancestral vibe to it.
Go and visit SandBox as well. While it is relatively new, it is worth including in your list of where to go in Pampanga. From giant swing to zip lining to riding ATVs to kite flying, Sandbox is an adventure haven for the kids and kids at heart located within Alviera.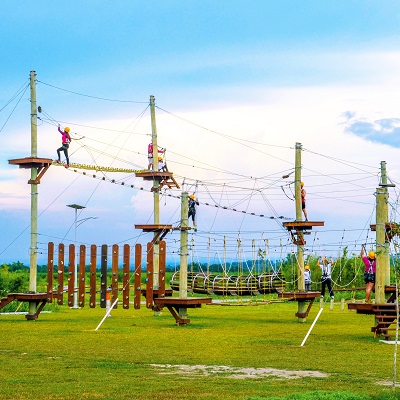 Angeles City
Angeles City is an independent and highly-urbanized city despite being geographically within Pampanga. Angeles City is mostly known for its historical sites such as:
Bale Herencia (Ancestral House)
Bale Matua (Founders' Residence)
Bayanihan Park
Camalig
Deposito (Post Office Building)
Fort Stotsenburg
Holy Family Academy Building
Juan D. Nepomuceno Center for Kapampangan Studies
Lily Hill
Museo ning Angeles (Museum of Angeles)
Old Pamintuan Residence
Reynaldo G. Alejandro Culinary Library
Salakot Arch
Santo Rosario Church (Holy Rosary Church)
Of all these, visitors would mostly enjoy going to the Museum. In here, you will find three distinct attractions namely Balikdan, Culinarium and Dioramic Scenes of Traditional Life in Pampanga. Balikdan, which means 'to look back,' aims to understand Pampanga's past. It features archival images from 1796 to 1991. Culinariumfeatures the Pampangueños culinary art and science, highlighting food as both a heritage and legacy. Dioramic Scenes showcases ten tableaus depicting the traditional Pampangan way of life.
Festivals are not to be left behind. Angeles City is almost synonymous to the Philippine International Hot-Air Balloon Fiesta, which was celebrated between January and February. Other festivals you to take note beside where to go in Pampanga are:
Apung Fiesta (Piyestang Apu (last Friday of October)
La Naval Fiesta (2nd Sunday of October)
Sabat Santacruzan (3rd of May)
Sisig Festival (every December)
Tigtigan Terakan keng Dalan (Music and Dancing on the Streets (last Friday and Saturday of October)
San Fernando
San Fernando, which is Pampanga's capital, is the first of two component cities. The city is the perfect destination for a cultural and heritage indulgence, so it should really be on your checklist of where to go in Pampanga. There are churches and other religious structures; heritage houses; historic buildings, schools and hospitals; and industrial heritage sites collectively known as the San Fernando Heritage District.
Nevertheless, the places of interests are:
Archdiocesan Museum and Archives
Bren Z. Guiao Sports Complex and Convention Center
Monumento Fernandino
Paskuhan Village (WOW Philippines Hilaga)
Let us not forget the festivals and observances that made San Fernando famous worldwide. These are San Pedro Cutud Lenten Rites where even foreigners relish on the bizarreness behind devotees willingly subject themselves to crucifixion just like Jesus Christ, Piestang Tugak (Frog Festival), Sinukwan Festival (in honor of Sinukuan) and Giant Lantern Festival.
A where to go in Pampanga list should include the Paskuhan Village. It is an absolute must-go!
Mabalacat
Mabalacat is the 2nd component city where about 60% of Clark Freeport Zone is situated. Some of the notable destinations in the city are the Kamikaze East Airfield and Aeta Village. Mabalacat is recognized as the birthplace of kamikaze wherein 'Japanese human bombs' is said to have killed over 1,200 Japanese soldiers and allied soldiers.
Aeta Village, on the other hand, is an authentic Aeta community where visitors can witness tribal rituals and customs. If you want to witness tribal dances, put the Aeta Village in your must-see places of where to go in Pampanga.
Mabalacat celebrates its city fiesta every 2nd of February.
Apalit
A first-class municipality, Apalit is categorically small town near Macabebe and Masantol. The biggest annual celebration locally is the Libad fluvial procession happening from June 28th to 30th. Apung Iru is the term given by the locals to larger-than-life seated ivory image of Saint Peter, who is considered as the first pope.
Further, Apalit is known for its man-made fishponds where you can go catfish, tilapia and pangasius fishing. Fishing tournaments are organized every now and then.
Arayat
Arayat is yet another small municipality and yet a large parcel of the place is occupied by Mount Arayat. Mountain climbing is the most profound activity in the area. Hikers can reach the caldera between 3 and 4 hours, depending on which trail they took (North Peak or South Peak).
Aside from the town plaza and park, tourists can also go to Sta. Catalina Church, a heritage site.
Bacolor
Bacolor, which name is derived from baculud, which means level ground, is a third-class municipality. The 'buried' community is due to the early eruptions of Mount Pinatubo. The lahar flow buried the San Guillermo Parish Church, earning the moniker 'the sunken church.' The same goes with the Our Lady of Lourdes as 'the sunken shrine.'
Needless to say, Bacolor is popular for its annual pilgrimages and observances. The Feast of San Guillermo happens every 10th of February while the Feast of Nuestra Senora del Santissimo Rosario (La Naval) is celebrated every 3rd Sunday of November.
Candaba
Candaba is another first-class municipality. It boasts of picturesque roadsides, town hall, parish churches, and market. Nevertheless, it is most known for its Candaba Swamp. A 32,000-hectare marsh, Candaba Swamp is a sanctuary for migratory birds. In January 2008 alone, about 17,000 birds (80 species) are recorded within 24 hours.
Consequently, the local bird watchers' associations organized the Ibon-Ebon Festival every February 1 to 2. If you are an avid bird watcher, make sure to mark your calendar. Put it on your top places of where to go in Pampanga.
Floridablanca
Floridablanca is the third largest municipality in Pampanga. Floridablanca's main landmark is the Basa Air Base, a military base of the Philippine Air Force.
Other cultural places of interests are San Jose Labrador (Saint Joseph the Worker) Parish Church, a heritage site, and Bahay na Puti (Alvendia House), an ancestral mansion.
Guagua
Guagua is one of the most urbane perhaps because it lacks forest areas. Some of the interesting places are the Plaza Burgos Monument and Capt. Ruben P. Sonco Freedom Square.
Cultural attractions are also evident such as Santiago Apostol Parish Church (aka Betis Church) and Immaculate Concepcion Church. The former is a baroque church declared as a National Cultural Treasure on November 5, 2001. The latter is a heritage church.
Lubao
Lubao is one of the biggest municipalities in Pampanga in terms of the number of barangays. Lubao is noted for its sampaguita, and every May, the locals celebrate the Sampaguita Festival. Seven clustered barangays are besting one another in as-inspired street dance productions.
Apart from the Diosdado Macapagal Library and Museum, other important places are:
Lubao Institute – the first and oldest private school
Lubao Materials Recovery Facility (MRF) – the designated place for making eco-friendly charcoal briquettes
San Agustin Church – the oldest in Pampanga
Macabebe
Another first-class municipality is Macabebe. The locals take great pride in having two of the most visited churches in Pampanga. These are the San Nicolas de Tolentino Parish Church and San Gabriel Parish Church. Its town hall is also a picture of cultural pride.
Magalang
Magalang is one of the closest municipalities in Angeles. Rizal Plaza is the most famous destination in Magalang. Its local shops selling native sweets and delicacies are also worth-visiting. Magalang is noted for its pastille de leche which are made from fresh carabao's milk.
Masantol
Masantol is the only second-class municipality. Originally, the name masantol was taken from the word santolsince the place has an abundance of santol trees. Masantol is a place for bon vivant or those whose palate is so unique they'd appreciate unique santol recipes served on kitchenettes and art galleries cum eateries.
Mexico
Mexico is a first-class municipality. Before it became Mexico, it was called Masiku from the root word siko(elbow) which refers to the elbowing river. Other said that, just like Masantol, Mexico is a place where chico trees grew richly (Machico).
Throughout Mexico are intricately designed churches including:
Good Shepherd Parish
Our Lord's Anunciation Parish
San Miguel de Archangel Parish
Monica Parish
Domingo de Guzman Parish
Further, Mexico stands out for its Good Friday Rites and Lubenas Pascu. The former is comprised of the Tanggal (re-enactment of removing Jesus's body from the cross), Prusisyung Pasu at Pamangutcut (Procession of the Scenes and Burial of Christ) and Burul (wake). When midnight comes, Virgen de Soledad (Our Lady of Solitude) commences.
The latter occurs from December 15th to 24th. The locals gather and parade carozzas and lanterns every night after dinner. Lubenas come from the word 'novena' which means nine days.
Minalin
While Minalin is a fourth-class municipality, it is a highly urbanized one. Minalin is the Egg Basket of Luzon due to large-scale egg and chicken production. Since 2008, the municipality is holding the Egg Festival every June.
Another prominent local celebration is the Aguman Sandoc Festival. This is a festival where straight men, mostly head of the families, dress as beauty queens. Even the famous figures step down from the statuses to join in the fun. The belles ride festive floats for a town-wide parade.
On a more serious note, one of Minalin's sacred treasures is the Santa Monica Parish Church. A 400-year old church, the structure uniquely designed with pre-colonial architecture. It also features European Catholic iconography.
San Luis
San Luis is a rather small third-class municipality. Its most popular destination is St. Aloysius Gonzaga Church. The church has a three-tower façade, the only one in the country with Spanish architectural design. Behind is an ancient cemetery where more than 200-year old tombstones are found. One of the tombstones belongs to Taruc family. Luis Taruc is the founder and leader of Hukbalahap.
San Simon
Yet another third-class municipality is San Simon. One key place in the town is the Virgen del Pilar Parish Church, which was built in 1771. Today, the church also houses a convent.
Santa Ana
Santa Ana is also a third-class municipality. Like San Simon, one place of interest is St. Anne Parish Church. A heritage church, the structure is built from stone and bricks in 1853. The church has a hexagonal four-story bell-tower with both blind and open recesses. The balustrade dome bell-tower has a cross above.
Santa Rita
Santa Rita is another fourth-class municipality. Santa Rita is mainly a farming town.
Aside from its native delicacies, Santa Rita is known for its Duman (Green Gold) Festival. Duman is much like pinipig (roasted and pounded green young rice grain), but it is made from glutinous rice. Duman is only available from November to December. The festival is celebrated every first Saturday of December wherein duman specialties are put on stalls lining the Sta. Rita Church patio.
Speaking of the church, Sta. Rita de Casia Parish Church is a heritage site built in 1726. Other heritage artifacts are the five bells located in Señora de la Cornea's belfry, Dolorosa bell, Virgen de Lourdes bell and the bells of San Jose and Santa Rita.
While at it, try visiting Villa Epifania – the very first all-concrete house in Santa Rita. Every part of the house boasts of architectural design that is unique at the time it was made (1931-1932) for only ₱90,000.
Santo Tomas
Santo Tomas, which is dubbed as the Casket Capital of Central Luzon, is also a fourth-class municipality. Santo Tomas is the youngest and smallest town in the province.
Its main annual event is called the Sabuag Festival (Easter Sunday Flower Scattering Festival). The locals scatter flowers (mostly sampaga) on the streets. If sampaguita picking is one of your to-do list in Pampanga, you might as well include this place in your bucket list of where to go in Pampanga.
Furthermore, the main attractions include St. Thomas the Apostle Parish Church and San Matias Parish Church.
Sasmuan
Sasmuan is another fourth-class municipality which derives from the root word sasmo. Sasmo means 'to meet' since the place is a pitagmuan or a meeting place of the datus. Sasmuan has a thriving seafood industry, but its main cuisine is those made from aligi/aligue (crab fat).
Sasmuan has two main annual events: Fiesta San Juan (every 24th of June) and Kuraldal Festival (every 6th of January). The first one is celebrated in honor of Saint John the Baptist while the second one in honor of Saint Lucy, the patron saint the locals believed to be miraculous.
Speaking of which, Santa Lucia Parish Church features a grotto of Our Lady of Fatima.
If you really to visit the province, you must know where to go in Pampanga. Your visit will be much more meaningful and fulfilling. From the places to visit in San Fernando to the extreme outdoor adventure in Porac, loved ones are sure to find activities and sights leading to a one-of-a-kind travel experience.