MASTERPLAN
All-Inclusive Progressive Growth Center in Central Luzon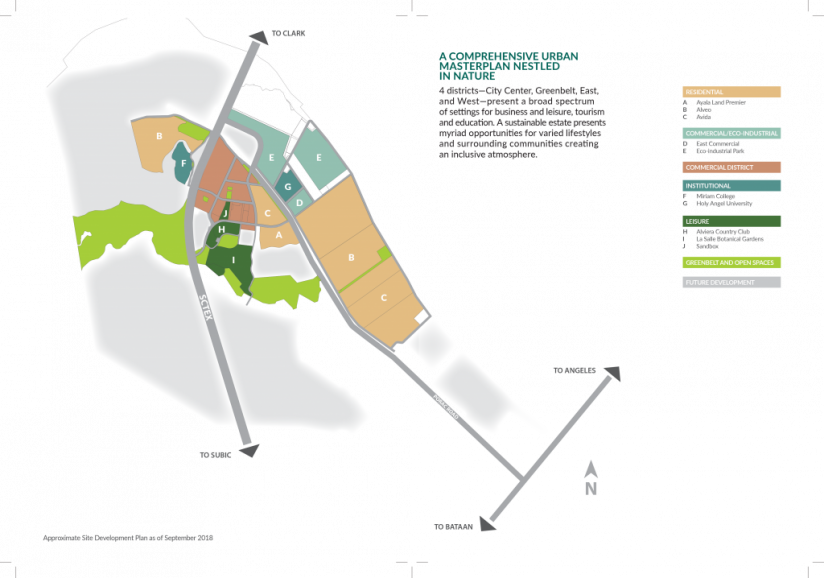 The vision for Alviera is to establish an all-inclusive progressive growth center in Central Luzon to serve as base for commerce and industry. Aside from residential and commercial projects, a PEZA zone for industries similar to the Ayala Land-managed Laguna Technopark will be built within Alviera.
Always keeping in mind the community's utmost convenience and security, the Alviera estate has been carefully master planned to offer a well-balanced mix of essential urban conveniences (residential, commercial, and institutional spaces) as well as a host of open spaces and outdoor attractions.
For business, Alviera has allotted 64 hectares of the estate for the creation of an industrial park, opening up many exciting opportunities for business, commerce, and career growth in Central Luzon. As for residential communities, Alviera is proud to cater to a full range of markets – from luxury country club living, to starter homes for young families, to cost-effective, affordable house-and-lot packages that are complemented by a great selection of shopping and dining outlets. In addition to these, the Alviera estate is also seamlessly linked to nearby Clark Airport, Subic Freeport, and provincial hubs like Angeles City and the City of San Fernando, making it all set to enhance connections in and around the region.
Invest: Alviera East Commercial
Alviera, a first-of-its-kind in Central Luzon, is a 1,800 has integrated mixed-use estate in Porac, Pampanga, by Ayala Land and Leonio Land envisioned to further boost the region's economic potential by being a center for business, leisure, and growth. 
Call 0917-5386826