BRIEF PROFILE OF PAMPANGA
Moniker: The Culinary Capital of the Philippines
Region: 3
Capital: San Fernando City
Foundation: December 11, 1571
Land area: 2,062.47 km2 (796.32 sq. mi)
Area rank: 59th out of 80
Population: 2,014,019 (or 2,340,355 including Angeles City)
Population rank: 9th out of 80
Divisions: 505 barangays, 1 independent city (Angeles City), 2 component cities (San Fernando and Mabalacat), 20 municipalities and 4 districts
Language: Kapampangan (6th most spoken native language)
Religion: Roman Catholic and Iglesia ni Cristo (INC)
Climate: Wet (May to October) and dry (November to April)
Major industries: Farming, fishing and handicraft (parol-making)
Major products: Rice, corn, sugarcane, bangus, crabs and tilapia
Natural resources: Wetlands, swamplands, agricultural lands, clay, gravel, sand and copper
Pampanga's creation in 1571 made it the first Spanish province in Luzon. Cebu was the first province in the Visayas founded in 1565. Also, La Pampanga served as the archipelago's capital from 1762 to 1754 during the British invasion of Manila.
The province of Nueva Ecija borders the northern part while Bataan and Zambales on the southwestern and western regions, respectively, and Bulacan on the eastern and southeastern parts. It opens up to Manila Bay as seen on the map of Pampanga.
Pampanga serves as the home to two Philippine Air Force bases namely Clark Air Base and Basa Air Base in Angeles City and Floridablanca, respectively. Angeles City is geographically within Pampanga province, but it has an independent government being a highly urbanized and first-class city.
Clark International Airport (formerly Diosdado Macapagal International Airport), which is found in Clark Freeport Zone, serves Pampanga. Clark International Airport is the 2nd international airport in Luzon.
ORIGIN OF PAMPANGA
Located in Central Luzon, it was the Spaniards who gave Pampanga its name La Pampanga upon discovering natives living near the riverbanks of the largest river during that time, Indung Kapampangan River. Its name originates from the term pangpang or pampang which means riverbank. Nothing is more suitable than its name since Pampanga is a flat province that is crisscrossed by hundreds of small lakes flowing and leading to the Pampanga River.
GEOGRAPHY
Pampanga is composed of 20 municipalities and 3 cities (2 component cities and 1 independent, highly urbanized city). Here is a political map of Pampanga, Philippines.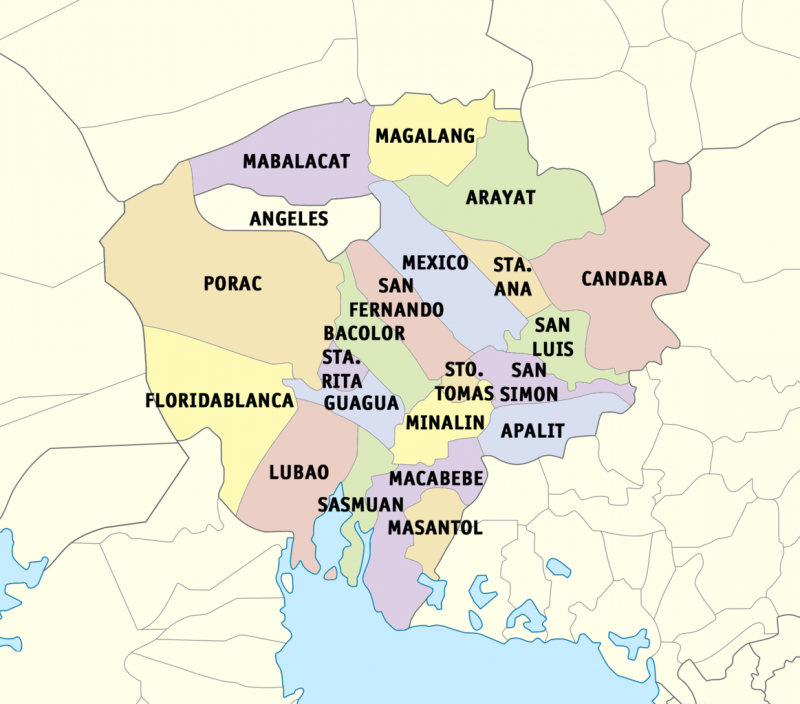 Physically, Pampanga's total land mass is 206,247 hectares. Pampanga, Philippines has a relatively flat terrain save for its rivers and mountains in the northeastern and northwestern sides. Among the municipalities, Porac has the largest land mass (314 km2) followed by Candaba (176 km2) and Floridablanca (175 km2). Santo Tomas has the smallest land mass (21 km2).
The wet season begins in May and ends in October, and the rest is considered dry season. The warmest months are March and April while the coolest months are December, January and February.
DEMOGRAPHICS
Based on National Statistics Office (NSO) 2010 census, the total population is 2,014,019 excluding Angeles City. If included, the total population is 2,340,355. The locals are referred to as Kapampangans, Pampangueños or Pampangos.
Pampangos speak a native dialect called Kapampangan.
Pampangueños are well-known for their chivalry and leadership abilities while the Pampangueñas are popular for their beauty and culinary skills.
Some of the most notable Kapampangans are:
Jose Abad Santos
Diosdado Macapagal
Gil Puyat
Rosa Rosal
Melanie Marquez
Donita Rose
Aurelio Tolentino
Eliseo Soriano
Efren "Bata" Reyes
Ato Agustin
Helen Gamboa
These famous Kapampangans all come from different locations that you can find on the map of Pampanga. They all possess various abilities and skills making their kin proud for bringing honor to the province.
RELIGION
Local residents are predominantly Roman Catholic although other religious groups thrive in Pampanga, Philippines. These congregations are Iglesia ni Cristo (largest minority religion), Ang Dating Daan, United Methodist, Jehova's Witnesses, The Church of Jesus Christ of Latter-day Saints, Jesus is Lord Church, Evangelicals, Seventh-day Adventist, Muslim, Aglipayan, Jesus Miracle Crusade, etc.
The entire Pampanga was placed under the influences of the Catholic Church during the Spanish colonization. Majority of the festivals and observances are somehow connected with Catholicism. The influence is even more pronounced during the Lenten season wherein different barangays from the map of San Fernando, Pampanga and other municipalities hold processions and other religious festivities.
ECONOMY
Pampanga's main industries are farming and fishing. The major products are rice, corn, sugarcane, and tilapia.
Other cottage industries such as wood carving, furniture-making, guitar-making, and handicraft are thriving in Pampanga. Specifically, the province is best known for its handcrafted lighted lanterns (parols). Gradually, Pampanga, Philippines is also becoming popular for its casket and all-purpose vehicle manufacturing industries.
Pampanga's culinary industry deserves a category of its own. Pampanga is also a home for some of the most popular culinary creations. Such creations include specialty foods and native delicacies, ranging from ordinary to exotic such as betute tugak (stuffed frog) and adobong Camaru (mole crickets).
Not to mention, the place is also the go-to destination for processed meat cravings. Two of the well-loved brands nationwide hail from the province. These are Pampanga's Best and Mekeni Food. They are famous for their tocino, tapa, hotdogs, and longganisa (Philippine-style sausage).
Other developing industries are found in the Clark Freeport. An example of these industries is the semiconductor manufacturing industry. Other budding investments focus on aviation-related sectors and light to medium technologies.
Foreign direct investments are also encouraged in the Clark Special Economic Zone. Utilities including telecommunication, water, electricity, and transportation extensively cover the entire Pampanga province. These are readily available and accessible for businesses and industries.
EDUCATION
In Pampanga, Philippines, there are 17 international schools, 66 colleges, and universities and more than a hundred primary and secondary schools. Some of the well-known schools are University of the Assumption, Don Bosco Academy, Chevalier School, Mary Help of Christian School and Republic Central Colleges.
There are also technical and vocational schools and trade learning centers.
ARTS
Pampangueños are known for specific crafts. They are superb goldsmiths and jewelers. There are also highly-skilled woodcarvers and furniture-makers. Filipino families buy and keep antique pieces of jewelry and furniture pieces as heirlooms.
Nationwide, the Kapampangans are known for their excellent cooking skills. The Pampangan cuisine is both sumptuous and exotic.
TOURISM
Tourism is an ever-growing industry, especially after the 1991 Mount Pinatubo eruption. The tourist spots in the map of San Fernando, Pampanga and other municipalities include heritage churches and shrines, historical landmarks and natural parks.
Heritage churches and shrines
Goddess of Peace Shrine, Clarkfield
La Purisima Concepcion Church, Guagua
Metropolitan Cathedral of San Fernando, City of San Fernando
Nuestra Senora Del Pilar, San Simon
Our Lady Of Grace Parish Church, Mabalacat
Pio Chapel, Porac
San Agustin Church, Lubao
San Andres Apostol Church, Candaba
San Bartolome Church, Magalang
San Guillermo Church, Bacolor
San Jose Matulid, Mexico
San Lorenzo Ruiz Paris, Mabalacat City
San Luis Gonzaga Church, San Luis
San Miguel Archanghel Church, Masantol
San Nicolas de Tolentino Church, Macabebe
San Vicente Ferrer Parish Church, San Fernando City
Shrine of Our Lady of Lourdes, Bacolor
Shrine of the Lord of the Holy Sepulcher of Angeles City (Apung Mamacalulu), Angeles City
St. James the Apostle Church (aka Betis Church), Guagua
St. Joseph the Worker Parish, Floridablanca
St. Peter Parish Church, San Juan, Apalit
Sta. Ana Church, Sta. Ana
Sta. Catalina Church, Arayat
Sta. Catalina Church, Porac
Sta. Lucia Church, Sasmuan
Sta. Monica Church, Minalin
Sta. Monica Parish Old Belfry, Mexico
Sta. Rita Church, Sta. Rita
Sto. Rosario (Holy Rosary) Church, Angeles City
Sto. Tomas Church, Sto. Tomas
Of these, St. James the Apostle Church and Sta. Monica Church are considered as national cultural treasures. San Agustin Church, which also happens to be the oldest church in Pampanga, Philippines is regarded as a national historic landmark. Churches in Angeles, Apalit, Bacolor, and Betis are known for their colonial church architecture.
Historical landmarks
In Angeles City
Angeles Post Office Building (currently houses Angeles Physical Therapy Rehabilitation Center)
Bale Herencia
Bale Matua
Bayanihan Park (formerly Astro Park)
Camalig
Don Juan Nepomuceno Residence
Fort Stotsenburg
Holy Family Academy Building
Lily Hill
Museo Ning Angeles
Old Pamintuan Residence
Salakot Arch
In Arayat
Dadong Dam
Arayat
Catherine Alexandria Parish Church
In Bacolor
100th Kilometer Bataan Death March Marker
Don Honorio Ventura Technological State University
Felix Galura Y. Napao Monument
Juan Crisostomo Soto Monument
Museo de Bacolor or Recuerdos Sagrados de Bacolor (Sacred Memorabilla of Bacolor)
San Guillermo Parish Church (the Sunken Church)
Simon de Anda y Salazar Monument
The Sunken Shrine (Cabetican)
In Lubao
President Diosdado Macapagal Residence Library and Museum
San Agustin Parish Church
In Mabalacat
Kamikaze Shrine
In San Fernando
Dayrit-Cuyugan House
Death March Marker
Hacienda Pagyuruan (Infante Ancestral Home)
Henson-Hizon House
Hizon-Singian House
Lazatin House
Nicolasa Dayrit Monument and Marker
Pampanga High School
Pampanga Provincial Capitol
PASUDECO
San Fernando Train Station
Tiburcio Hilario Monument
Natural parks
Dadong Dam (Arayat)
Dara Falls (Porac)
Hot Spring of Sitio Puning (Porac via Sapang Bato, Angeles City)
Lahar Canyon (Porac & Bacolor)
Maruring Falls (Mabalacat)
Miyamit Falls & Porac Peak (Porac)
Arayat National Park (Arayat)
Pinatubo Crater Lake (Pampanga/Tarlac/Zambales)
Muñoz Park (Minalin)
Scenic Candaba Swamps and Wild Duck & Birds Sanctuary (Candaba)
A map of Pampanga serves as a guide towards the historical landmarks in Angeles City, San Fernando, and other municipalities. Taking time to see of all of these national treasures preserves not only the Kapampangan heritage but also the local culture and history.
Others
Equally important tourist destinations in Pampanga, Philippines include Sandbox in Alviera, the Paskuhan Village, Zoocobia Fun Zoo (Paradise Ranch), Casino Filipino, Nayong Pilipino sa Clark, Clark Museum and Museong Kapampangan, Dinosaurs Island, El Kabayo Riding Stables & Cowboy Western Town and Clark Eagle Shooting Range.
EVENTS
In Pampanga, Philippines, all months feature a festival or more. For one, each of the city or municipality celebrates a fiesta in honor of its patron saint.
Angeles City – Nuestra Señora del Santisimo Rosario de La Naval de Angeles (2nd Sunday of October)
Apalit – San Pedro Apostol (June 28, 29 and 30)
Arayat – Santa Catalina Alexandria (November 25)
Bacolor – Nuestra Señora del Santisimo Rosario de La Naval de Bacolor (3rd Sunday of November)
Betis – Santiago Apostol (July and December)
Candaba – San Andres Apostol (November 30)
Floridablanca – San Jose Talapagobra (May 1)
Guagua – La Purisima Concepcion (December 8)
Lubao – San Agustin de Hippo (August 28)
Mabalacat –Nuestra Señora de la Divina Gracia (February 2)
Macabebe – San Nicolas Tolentino (September 10)
Magalang – San Bartolome Apostol (August 24)
Masantol –San Miguel Arcanghel (May 8)
Mexico – Santa Monica (May 4)
Minalin – Santa Monica (2nd Sunday of May)
Porac –Santa Catalina Alexandria (November 25)
San Fernando – San Fernando Rey (May 30)
San Luis – San Luis Gonzaga (June 21)
San Simon – Nuestra Señora del Pilar (October 12)
Santa Ana – Santa Ana (July 26)
Santa Rita – Santa Rita de Casia (May 22)
Santo Domingo –Sto. Domingo De Guzman (August 8)
Santo Tomas –Santo Tomas Apostol (December 21)
Sasmuan –Santa Lucia Martir (December 13)
Further, the Department of Tourism lists down some of the notable annual events in Pampanga, Philippines. These are Aguman Sanduk (Fellowship of the Ladle) in Minalin; Caragan Festival in Mabalacat; Ibon-Ebon Festival in Candaba; Philippine International Hot-Air Baloon Festival in Clark; Cutud Lenten Rites, Pyestang Tugak (Frog Festival), Giant Lantern Festival and Sinukwan Festival in San Fernando; Apung Iru Fluvial Parade in Apalit; Fiestang Culiat and Tigtigan Terakan Queng Dalan (Pampangan Mardi Gras) in Angeles; and Duman Festival in Sta. Rita.
The province of Pampanga offers a myriad of lifestyle choices for settlers and travelers. Whether it is immersing taste buds to the local delicacies, exploring business opportunities or trying out indoor and outdoor activities, each of the cities and municipalities in Pampanga guarantees a unique experience.