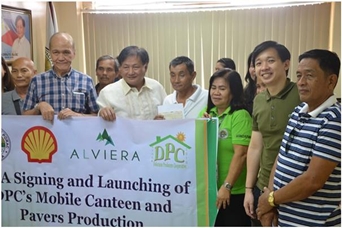 (From left to right (Barangay Captain-Mr. Rosendo Pineda, Pilipinas Shell Foundation Inc. Exec. Director-Mr. Edgar Veron Cruz, DPC Vice-Chairman-Mr. Adonis Tolentino, Hon. Mayor Condralito Dela Cruz, DPC Chairman- Mr. Cesar M. Santiago, Municipal Agriculture Officer-Ms.Melba Malit, Alviera Deputy GM-Mr. Jonax Dyning, DPC-BOD-Mr. Cesar Ocampo).
On June 27, 2017, Pilipinas Shell Foundation, Inc. ((PSFI) and Dolorian Producer's Cooperative (DPC) forged a strong partnership with the signing of a Memorandum of Agreement (MOA). The MOA was anchored under the "Suporta sa Buhay" (SUHAY) Program of PSFI where DPC was provided with a microfinance assistance for its capital needs to establish a mobile canteen. SUHAY is a microfinance program of PSFI that aims to assist community micro-entrepreneurs like DPC in meeting its financial needs for their businesses.
Dolorian Producers Cooperative is a credit and service cooperative established in 2015 in Barangay Dolores, Porac, Pampanga with the purpose of contributing to the upliftment of the economic condition of its members and the community. DPC has a total of sixty (60) active members and currently engaged in the production of peanut butter and liquid dishwashing detergents.
The MOA signing event was held in partnership with ALVIERA, Office of the Mayor and with Municipal Agriculture Office (MAO) of Porac, Pampanga. ALVIERA is a mixed-use estate joint venture development of Ayala Land and Leonio Land where Brgy. Dolores in Porac, Pampanga is one of the host communities. Mayor Condralito Dela Cruz and Ms. Melba Malit (MAO) both expressedgratitude to PSFI and ALVIERA for their continued support to DPC. Mayor Dela Cruz narrated how PSFI helped a number of Out-of-School-Youth from Barangay Hacienda Dolores with the training in small engine and motorcycle repairs. Mr. Veron Cruz, Executive Director of PSFI in his message, highlighted the role of PSFI in helping communities to help themselves. He also said that with the number of trainings the DPC had undertaken, the cooperative is now equipped to handle and manage livelihood projects. The microfinance assistance by PSFI comes in the form of soft loan amounting to TWO HUNDRED THOUSAND FOUR HUNDRED PESOS (Php 200,400) with no interest charge that is payable in eighteen (18) months.
DPC Chairman, Cesar Santiago was very appreciative to PSFI for staying with the cooperative for 2 years. He said that PSFI was instrumental in keeping the cooperative intact and for the realization of their livelihood projects. He also expressed gratitude to ALVIERA for giving the DPC the livelihood opportunities such as the mobile canteen and pavers production. According to Chairman Santiago, part of the soft loan will be used to purchase a second-hand vehicle for its mobile canteen and for transport of workers for the pavers production. For the final message, Mr. Jonax Dyning, Alviera Deputy Manager made a commitment for the continued support to DPC and to the community of Barangay Dolores.
The MOA signing event was participated by Mr. Jonax Dyning, ALVIERA Deputy Manager, Ms.Emma Adrada, ALVIERA Community Relations, Mr. Aris Pangilinan ALVIERA Property Manager, Trisha Baltazar, Municipal Agriculturist, Erwin Guce, PSFI Program Officer and members and officers of DPC. DPC was also visited in their office in Barangay Dolores by Mrs. Baby Dizon and her son, Benedict Dizon, Shell Distributor in Porac, Pampanga. The Dizons also committed to support DPC in their livelihood projects. Mrs. Dizon was interested in peanut butter and liquid detergents that she could use in her restaurant in Manila.