Good Education, Within Reach
Alviera, a "green township," features outdoor parks and bike trails, a commercial center, and work spaces, as well as a hotel, country club, residential developments and, of course, educational institutions at its university zone. These will be one of the major components of Alviera.
Alviera's university zone is envisioned to be a hub for educational excellence that will serve students from across Central Luzon through Holy Angel University (HAU) and Miriam College.
Founded in 1933, HAU is a private lay-founded Catholic school and the first co-educational high school. It has a Level II re-accredited status from the Philippine Accrediting Association of Schools, Colleges and Universities (PAASCU) for its college and high school programs and a Level I accredited status for its elementary and graduate programs.
Miriam College, on the other hand, is a Catholic school for girls and young women that offers academic program from pre-elementary to post-graduate.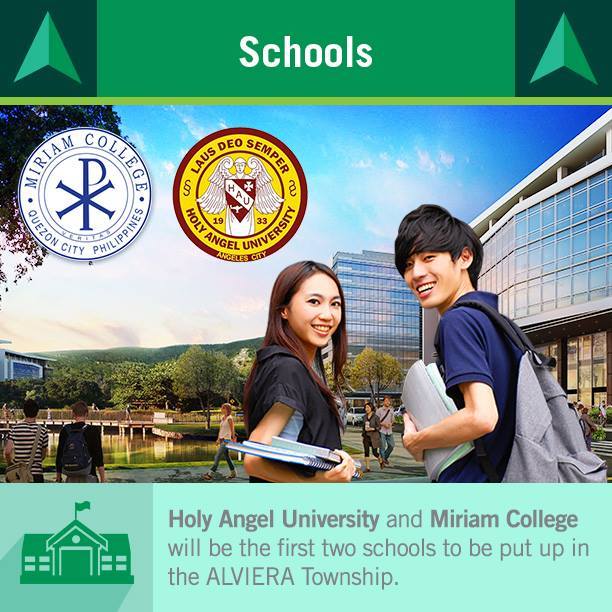 Holy Angel University
HAU, whose flagship campus in Angeles is the largest in Pampanga, will be the first educational institution to rise in the university zone of Alviera.
HAU will cater to all educational levels and build support facilities such as a chapel, athletics venues, and dormitories over a 10-hectare land area. The school is targeted to become operational by 2021.
Miriam College
Miriam College Alviera will sit on a 10-hectare campus and will offer senior high school and college courses in the fields of arts, design, management, and technology. Young adults and those seeking higher education can enjoy unique opportunities for self-expression and creative exploration at Miriam College's campus since differentiated college offerings will be explored with special focus in the creative fields.
Miriam College has a flagship campus in Quezon City while another branch has recently opened in Nuvali. Miriam College in Alviera is the third location which is set to havc full coverage of Luzon.