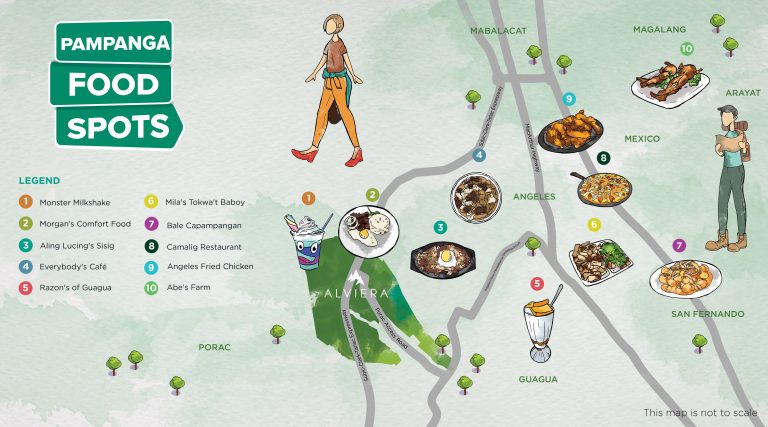 There is a reason why Pampanga is dubbed the Culinary Capital of the Philippines. Known for its first-rate cuisine and flavorful delicacies, Pampanga is the home of best dishes in the country. If you are planning a food trip anytime soon, look no further! Here's a rundown of the famous food spots in Pampanga. Be ready to treat your taste buds and satisfy your cravings through this unique gastronomic experience.
Monster Milkshake
Don't be intimidated by its name. Monster Milkshake offers sweet and refreshing milkshakes that would surely put a smile on your face. First opened in SandBox in Porac, Pampanga, Monster Milkshake features fun flavors such as Matcha, Bubblegum, and Merry Berry Cheesecake. What is unique about Monster Milkshake is that they don't use ice, just pure smooth and rich ice cream.
Must Try: Cheesecake in a Milkshake flavors
Cost for 2: PHP400
Morgan's Comfort Food
Morgan's Comfort Food provides good food inspired by what Kapampangans would usually prepare on a typical Sunday breakfast gathering. Situated in Porac, Pampanga, Morgan's Comfort Food serve dishes that are filling, flavourful, and comforting – it reminds you of home.
Must Try: All-Day Breakfast Menu
Cost for 2: PHP450
Aling Lucing's Sisig
Every single story about Sisig from Pampanga will tell you that Luciana "Aling Lucing" Cunanan is the "Queen of Sisig". Located in Angeles City, Pampanga, Aling Lucing's Sisig is touted as the home of the original sisig. With just the right crunch and zing from every bite, you know you're getting the taste of authentic sisig.
Must Try: Sisig
Cost for 2: PHP350
Everybody's Cafe
Started as a neutral ground during liberation times in Philippine history, Everybody's Cafe has evolved into a restaurant serving authentic Kapampangan cuisine. Settled right along MacArthur Highway in San Fernando, Pampanga, the restaurant features a turo-turo casual dining setting where ready-made viands are displayed for your choosing.
Must Try: Kilayin
Cost for 2: PHP700
Razon's of Guagua
Started as a mini-stall at the Razon residence at Guagua, Pampanga, Razon's of Guagua grew to more than 30 branches around Metro Manila. It is well-known for its classic halo-halo that consists of only 3 main ingredients: Leche flan, Macapuno and Saging na Saba. With the quality of its crushed ice, you will enjoy how it easily melts in your mouth.
Must Try: Classic Halo-Halo
Cost for 2: PHP300
Mila's Tokwa't Baboy
If there is one restaurant that you shouldn't miss when visiting Angeles City, it is the famous Mila's Tokwa't Baboy. Aling Mila's humble eatery started in 1986 and rose to fame because of its signature Tokwa't Baboy. The tofu used in the dish has a crisp, pleasant texture that gives way to a soft interior. The dish also consists of pork, onion, and celery chunks, cooked in a special homemade sauce.
Must Try: Tokwa't Baboy
Cost for 2: PHP350
Bale Capampangan
One of the popular food spot in San Fernando, Pampanga, Bale Capampangan offers authentic Kapampangan dishes through an open buffet setting. The dishes are placed in uniquely crafted clay jars with modern burners inside to ensure that they are served hot.
Must Try: Adobong Balut
Cost for 2: PHP750
Camalig Restaurant
Home of the famed Armando's Pizza, Camalig Restaurant is a 100-year-old ancestral grain depot that was restored in 1980 and turned into a restaurant. Located in Angeles City, it offers an unforgettable dining experience- a mixture of good food, excellent service and great ambiance. What makes their Armando's Pizza popular? It is handmade to perfection using impeccable ingredients such as artisan dough, fresh toppings and rich thick sauce slow-cooked for six hours.
Must Try: Armando's Pizza
Cost for 2: PHP700
Angeles Fried Chicken
Known as the oldest running restaurant in Angeles City, Angeles Fried Chicken is popular for its chicken recipe that is passed from generation to generation. You can surely have a great and comfortable dining experience at the restaurant since it has a relaxing ambience and an accommodating staff who always provide quick and highly efficient services.
Must Try: Classic Fried Chicken
Cost for 2: PHP600