BUILT NOT JUST IN NATURE BUT WITH NATURE
Built not just in nature but with nature, Alviera Country Club is a modern oasis amid the beautiful sprawling landscape of the Alviera estate in Porac, Pampanga.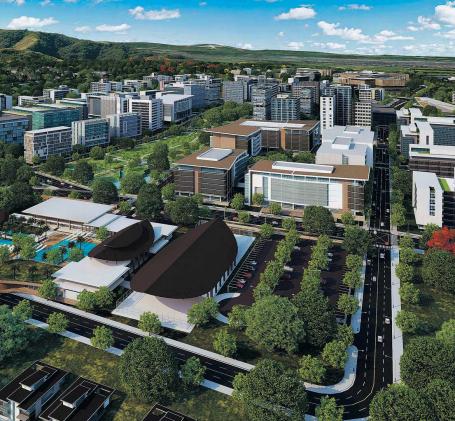 Designed to complement its natural surroundings, ALI's exciting new estate development in the north brings fresh, new, lifestyle options for the community.
Creating Memorable Moments
The very first of its kind in Central Luzon, the Alviera Country Club is poised to become the perfect venue for rest and recreation.
The club, designed by Leandro V. Locsin & Partners, complements its natural surroundings, making it the ideal place for the entire family to recharge and reconnect with each other and with nature.
More To Offer
Ensuring that its members' needs are always met with utmost satisfaction, Alviera Country Club is proud to offer an impressive selection of amenities catering to rest and relaxation, recreation, and interaction.
Need a place to dine and hangout? Alviera Country Club promises its members and their loved ones a wonderful culinary experience with its impeccable selection of gastronomic gems that are sure to satisfy any craving. From a casual, open kitchen dining experience to exquisite international cuisine offerings, club members will definitely be spoiled for choice whether they want to relax in cozy cafes or savor their meals al fresco.
Not just limited to dining establishments, Alviera Country Club also offers an assortment of amenities for entertainment, such as a billiard hall, KTV rooms, theatre rooms, and a game and arcade room to be enjoyed by club members of all ages.
The club also expounds on the value of a healthy and active lifestyle, thus, offering several sports and recreational facilities like basketball, futsal, and volleyball courts; an open turf play area for field sports and outdoor events; and indoor/outdoor tennis and badminton courts. These are perfect for staying in shape as well as great bonding activities among friends and family. However, the centerpiece of all the club's amenities is the club's network of pools, which features cooling pods, a six-lane lap pool, lounge pool, kiddie pool, and more.
While the gym, dance studio, wellness spa, Jacuzzi and steam bath facilities will cater to folks who want to relax, recharge, rejuvenate and kick the stress away after a tiring day.
Making the club an ideal and special place for the little ones, members and their kids can enjoy the indoor and outdoor play areas along with a Splash Park infused with jets, fountains, slides, splash pods and kid-friendly lockers.
In addition to these facilities, Alviera Country Club also has spacious and modern venues that will work well whether for business or social gatherings starting with the spacious boardroom, meeting rooms, an al fresco café, a multi-purpose hall, and one grand hall that can be divided into two ballrooms and can fit 500 to 600 guests with a pre-function area overlooking the central courtyard.
The myriad of choices allows you to create new bonds and strengthen the connections you already have, time and time again.
Breaking New Ground
In partnership with Leonio Land, ALI breaks new ground with its landmark development in the north, Alviera, a 1,100-hectare estate in Porac, Pampanga. Alviera showcases Central Luzon's potential to become a brand new hub for business, leisure and growth.
Always keeping in mind the community's utmost convenience and security, the Alviera estate has been carefully master planned to offer a well-balanced mix of essential urban conveniences (residential, commercial, and institutional spaces) as well as a host of open spaces and outdoor attractions.
One of the first outdoor attractions of Alviera is Sandbox, a two-hectare adventure destination with a unique selection of facilities that provide a memorable outdoor experience for everyone. It has Asia's first rollercoaster zipline and the tallest Giant Swing in the Philippines as its main attractions. Other fun activities to be enjoyed include archery and ATV/UTV rides for those who are seeking a more thrilling adventure.
For business, Alviera has allotted 31 hectares of the estate for the creation of an industrial park, opening up many exciting opportunities for business, commerce, and career growth in Central Luzon. As for residential communities, Alviera is proud to cater to a full range of markets – from luxury country club living, to starter homes for young families, to cost-effective, affordable house-and-lot packages that are complemented by a great selection of shopping and dining outlets. In addition to these, the Alviera estate is also seamlessly linked to nearby Clark Airport, Subic Freeport, and provincial hubs like Angeles City and San Fernando City, making it all set to enhance connections in and around the region.